The Real Cost of Professional Development With Dr. Marguerite Roza
Get on-demand access to this outstanding webinar with Dr. Marguerite Roza of the Edunomics lab at Georgetown University in the Sibme Learning Center. Click on the link below and register for your free access to this webinar and tons of other free learning content!
Schools spend an average of $18,000 per teacher on professional development every year, according to The New Teacher Project. But what return do you get for that investment? Join us for a conversation with Dr. Marguerite Roza of Georgetown University's Edunomics Lab to learn about the real cost of PD.
Watch Now
Dr. Margurite Roza answers the following questions:
In general, what's your philosophy to how school leaders  should approach budgeting? Specifically, how do you think they should approach the cost of the most valuable resource in a school: time?
The New Teacher Project estimates that American schools spend $18,000 per teacher on professional development each year. When thinking about the cost of PD for teachers, what factors do you think school leaders should look at aside from the obvious costs of hiring presenters for workshops, books and resources, etc?
What are some of the hidden costs of traditional PD for teachers?
PD dollars are scarce, so how should schools and districts evaluate the benefit associated with PD costs? How do you think about calculating the return on investment in PD?
Plus, Dr. Roza teaches us how to play the "Would you rather?" game!
Watch Now

Margurite Roza also talks about her work at the Edunomics Lab at Georgetown University, and how school leaders can learn strategies for evaluating the effects of school finance on the classroom and campus level.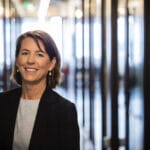 Marguerite Roza, Ph.D., is Research Professor at Georgetown University and Director of the Edunomics Lab, a research center focused on exploring and modeling education finance policy and practice. She leads the McCourt School of Public Policy's Certificate in Education Finance, which equips participants with practical skills in strategic fiscal management, policy analysis, and leadership
Dr. Roza's research traces the effects of fiscal policies at the federal, state, and district levels for their implications on resources at the school and classroom levels. Her calculations of dollar implications and cost-equivalent trade-offs have prompted changes in education finance policy at all levels in the education system.
Marguerite Roza regularly works with state and local policymakers and education leaders, and has led projects on state and school district finance policy, financial equity, pensions, compensation, higher education finance, and other related topics. She has written extensively on financial transparency and the opportunity for equity and productivity. Her work has been published by the Brookings Institution, Public Budgeting and Finance, Education Next, Governing, Peabody Journal of Education, and the American Journal of Education. She is author of the highly regarded education finance book, Educational Economics: Where Do School Funds Go?
Prior to her appointment at Georgetown University, she served as Senior Economic Advisor to the Bill & Melinda Gates Foundation. Earlier, she served as a Lieutenant in the U.S. Navy teaching thermodynamics at the Naval Nuclear Power School. Dr. Roza earned a Ph.D. in Education from the University of Washington and a B.S. from Duke University. She also studied at the London School of Economics and the University of Amsterdam.
Watch Now