Jim Knight Instructional Coaching Conference Highlights importance of video
We were happy to sponsor the Corwin Teaching Learning Coaching Conference this year. Jim Knight has been a major voice in Instructional Coaching for decades. His recent research on Instructional Coaching with Video has identified that video evidence is key to the success of any teacher's professional growth. While Jim's sessions were characteristically inspiring, we heard many great stories from outstanding researchers and Instructional Coaches on how video is transforming their work, and maximizing their impact. Some of our major takeaways are below:
Jim Knight Instructional Coaching With Video Resources
Several presenters discussed the importance of focused attention on specific data in observations. In his book, Focus on Teaching: Using Video For High-Impact Instruction, Knight suggests focusing on certain quantifiable data points in video footage to help drive coaching conversations. The list below is a great place to start, and there are two forms available from Focus On Teaching available for you to download.
Count positive/negative interactions with students: calculate the ratio of interaction. Shoot for a ratio of 5:1.
Scribe responses to students and track which responses are growth vs. fixed mindset responses.
Track off-task behavior and keep a check list for each off-task behavior that is observed and each off task-behavior that is corrected. Calculate what percentage of off-task behavior is observed and what percentage of off-task behavior is corrected by the teacher.
Count the opportunities to respond in a certain video and divide by the number of minutes. Shoot for 3-5 opportunities to respond per minute.
Track instructional vs. non-instructional time
Track time for teacher talk vs. student talk
Jim Knight's "Watch Yourself" Form
Jim Knight's "Watch Your Students" Form
Top Three Takeaways from Jim Knight Instructional Coaching Conference
1. Dialogical Coaching requires evidence.
Jim Knight advocated for a targeted, systematic, dialogical approach to coaching with his characteristic grace and intelligence. Jim always pushes us to find ways to empower the teachers we're coaching to evaluate their own data, and set their own goals. His dialogical approach recognizes the human nature of coaching, and our natural desire to drive our own learning. You can see some of the ways that Jim uses a systematic approach to making data the third voice in the list above. Here's another great checklist to help facilitate these conversation.
We tried to goad Jim into a debate with Gary Bloom about the merits of dialogical vs. directive coaching. Neither were taking us up on the offer. In his session, Gary reminded us that a new teacher might not know what they need to know, and therefore need a more direct approach. Gary also spoke about the differing roles some administrators have when they want to coach, but also have to evaluate and supervise teachers. Finding a balance between the three is crucial, but feedback without evidence is just perception. Too many instructional leaders describe reality as they see it to a teacher with the expectation that the teacher improve. That doesn't work. With out objective evidence, like video, change is close to impossible.
Are you smarter than a kindergartner?
Joi Lunceford used a well-known analogy called "Austin's Butterfly" to remind us that three things are crucial to successful coaching:
An exemplar of what excellence looks like.
Specific feedback that describes the difference between the current reality (as Jim would say) and the ideal goal.
Focused attention on one change element at a time. Do not move on until you've mastered that one thing.
As you can see from the image below, following these steps can be pretty dramatic. Austin, a kindergartner, was able to replicate the picture in the lower right-hand corner after only 5 tries. His peers (yep…other kindergartners) coached Austin with these three-easy steps. If they can stay focused, stay specific, and keep the exemplar in mind, surely we can too!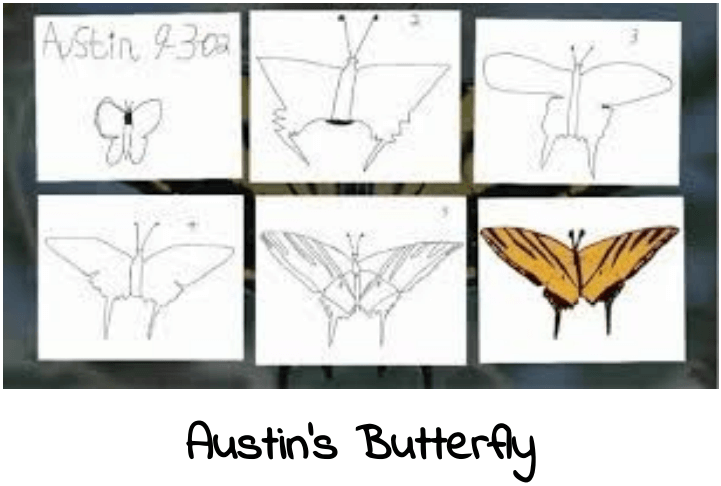 2. "Knowing Thy Impact" as an Instructional Coach
Great educators want to know that they are making a difference. This is true for teachers, school and district leaders and instructional coaches alike. The conference title "its all about the kids" might suggest that student performance data might be the first place to look for your impact. However, we spent time in Lindsey Deacon and Peter Dewitt's session thinking about the motivation behind this common inclination in measuring the impact of coaching. Peter and Lindsey made the important point that you need to track evidence over time to ensure growth. Since student performance is already tracked in most institutions, it's understandable why many coaches would choose that as their metric of success.
The question becomes, what is the real job of an instructional coach? The title suggests that your job is to coach instruction, not student assessment. The key is to track the thing you coach. If you're helping a teacher with specific instructional strategies, you should measure your impact by the frequency or effectiveness of those strategies, not student performance. In many cases, video is the only way to accomplish this. And watching the video isn't enough. You need to be able to evaluate strategies as you watch them. A platform that makes time-specific feedback crucial. You also need a way to track your feedback over time. It's not that we're saying you should stop looking at student performance. But if that's all your tracking, how can you be sure you really know your impact?
3. Error Analysis
Nancy Love from Research for Better Teaching shared an excellent Error Analysis Protocol that coaches can use with teams of educators to evaluate student work to drive the re-teaching process. This protocol is a great analysis of student work. It also makes a great goal-setting and coaching process for teachers to use with their own instructional practices. The steps are outlined below, just reimagine how you might use this cycle to analyze teaching in the classroom to drive coaching: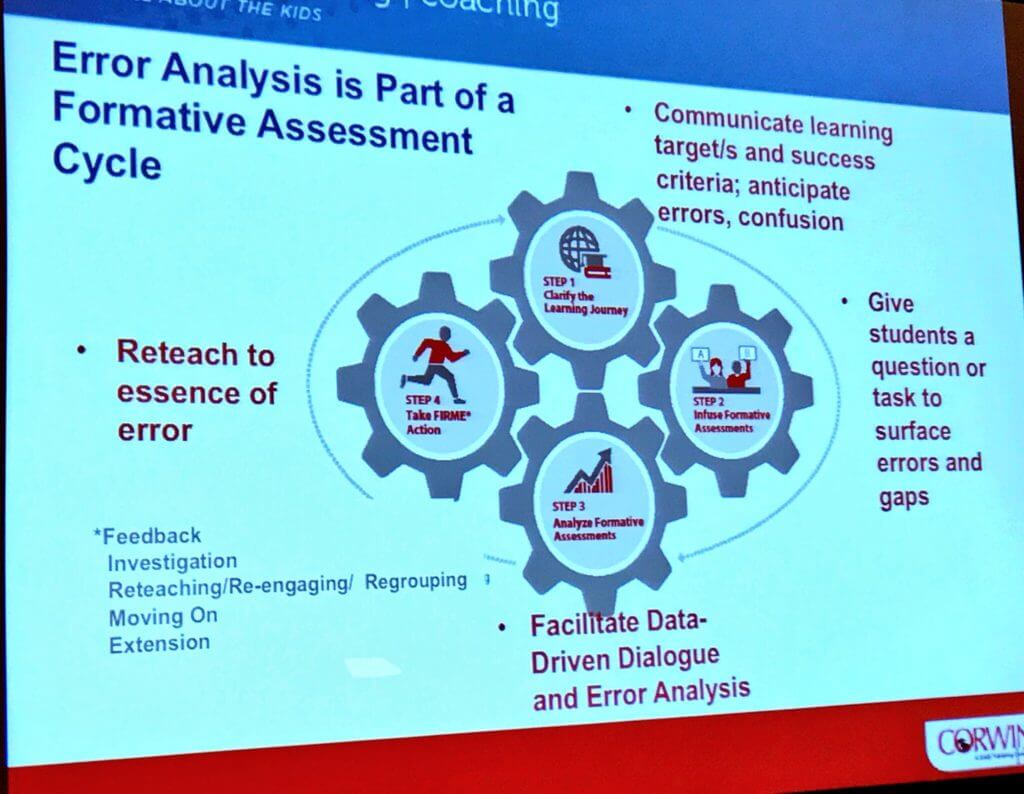 Step 4: Reteach to essence of error was particularly enticing. How many times have you felt like you identified the problem for teachers, but not ever seen growth in their practice? Think about ways you can take FIRME action to support the teacher through growth. This is the bridge between Jim's dialogical approach to coaching and Gary Bloom's more directive approach. You might want to be investigative in your coaching to get more information and more accurately asses the problem. Or perhaps it is time for reteaching or feedback. We think FIRME action is a great strategy for instructional coaches who really want to see their impact with teachers.
The TLC Conference was a wonderful experience! We recommend you take time to look further into the resources we've provided here. Make plans to learn more from Jim at next year's conference in Las Vegas!