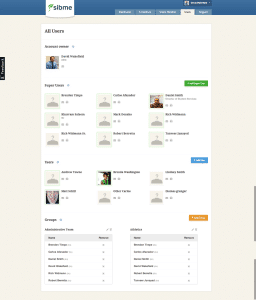 In case you're wondering why we designed and developed the Sibme application to accommodate two different levels of Users, it's because not every school, educational organization, or institution is ready to allow their employees to have all permissions and privileges afforded them in the application. Complete transparency, trust, and open collaboration should be the end goal in any company, organization, or school. Unfortunately, due to the complexities of people working in organizations, this is often not the case.
When using the Sibme application, every school should aspire to make every teacher and administrator in their building a Super User. For those of you who don't know the difference between a Super User and User – Super User status gives you super powers – allowing you to create and access all Video Huddles and Participant Invitations and add or delete people from the account. On the other hand, User status only allows you access to participate in Invitations and Video Huddles that a Super User has invited you to participate in.
Needless to say, when it comes to using Sibme in schools, it's best the Account Owner is your Principal. They own the account, manage the subscription plan, and have the ultimate power of registering and canceling the account. The rest of your leadership team should be invited into the application as Super Users – administrators, instructional leadership, and Department/Grade level Chairs.
School leadership is vital to driving the Sibme application. Teachers need their instructional leaders to more efficiently facilitate their development. Just like teachers shouldn't be a sage on the stage with their own students, instructional leaders should not assume they have all the answers when it comes to great instruction. They should, however, have the judgment and wisdom to guide a teacher towards reflecting on best practices and his or her own instructional performance.
When used well, the Sibme app is a tool that helps facilitate the observation and feedback loop in schools, institutions, and educational organizations more efficiently. It does not replace the skills, experience and judgment of a competent administrator, instructional leader or teacher. It does, however, allow educators to work smarter and more efficiently together, so in the end, we are better teachers and professionals for our students.