Screen Recording now available with Sibme!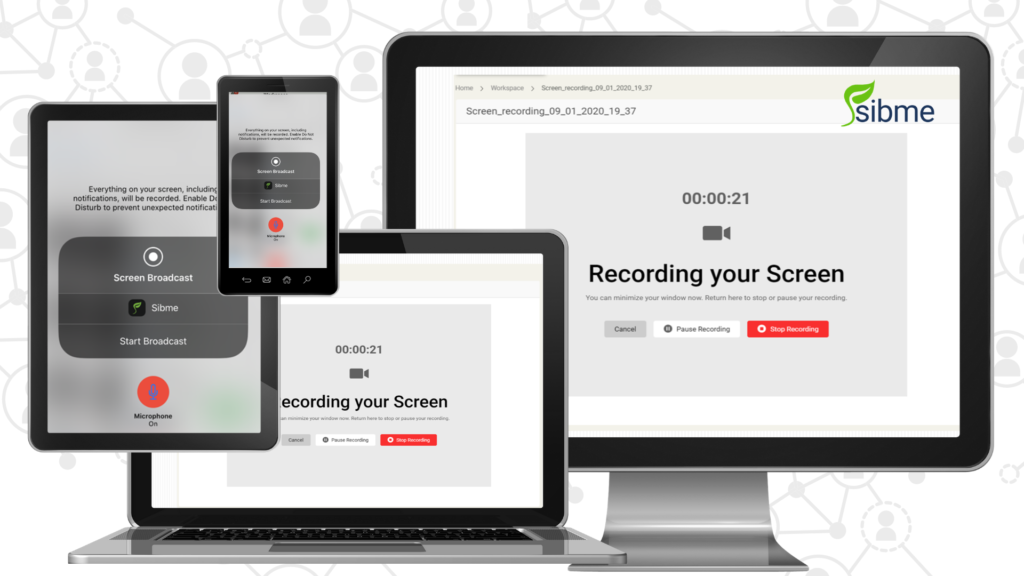 Sibme has always been the best option for easily capturing video of instruction for self-reflection, collaboration, and feedback. But what happens when your classroom is suddenly more on a computer screen than in a room? With Sibme's new Screen Recording Feature, you can now capture your online classroom just as easily as your physical classroom! That way, no matter what you need to capture to share with others, you can do it all in Sibme!
Oh…and the best part? Screen Recording is available on both the web and mobile versions of Sibme!
How to Record your Screen with Sibme
Click here for our detailed help article on Screen Recording
As with any artifact, the best place to start capturing your screen is from your private Workspace. That way, you can review your recording before sharing it with others. To start a screen recording, simply access your Workspace, click the green plus button, and click "Record Screen."

You have the option to record with video from your webcam or without. and then you're ready to go!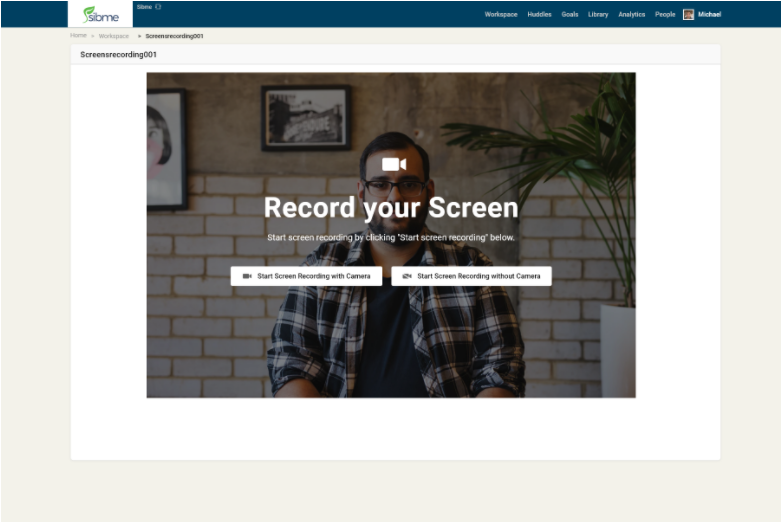 TIP: If you're trying to record a live lesson through Zoom, Meets, or another web-conferencing software, choose to record without your camera in Sibme, since you'll likely use your camera for your live lesson in whatever web-conferencing software you use.
After you're done recording, simply stop sharing your screen and the recording will automatically upload to your Workspace. From there, you can view, annotate, or crop your video similar to all your other video recordings.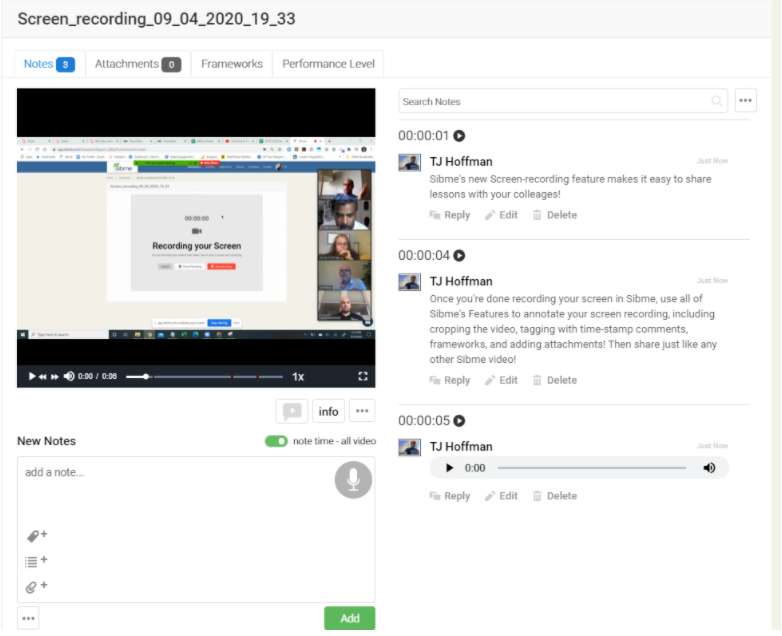 ---
Why use Sibme's Screen Recording Feature?
This new feature makes it even easier to record video of your screen. With that in mind, Here are three ways you can use Sibme's Screen Recording Feature to help you during remote and social-distant learning. 
Recording asynchronous video lessons
Use screen recordings to crowd-source content in collaboration with other teachers for flipped lessons that can be shared and reviewed before downloading and uploading to your LMS. Videos can be shared with your team, and then easily downloaded and uploaded to your LMS. Sibme recordings are compressed and optimized for web and mobile video playback making it easier to share and view online.
Record an explanation of a digital resource you plan to use.
Teachers are scrambling to learn all kinds of new digital technologies for online learning. While districts are providing training, it can be hard to stay organized. Using Sibme's Screen Recording feature to capture short explainer videos of different digital resources, how to set them up, and how to use them during instruction means teachers can return to a recording anytime to get a reminder on how to implement these resources. Teachers can also share resources they've found by explaining the resource in Screen Recording and adding the recording and the resource itself (as an uploaded artifact or URL link) to a Huddle. And with time-stamp comments, teachers can ask questions during the video and collaborate with one another to develop a deeper understanding of new resources on-demand!
Recording your live-lessons for self-reflection and feedback.
As teachers learn new strategies for managing students in web-conferences, it can be hard to reflect on what happened each day in the continuous parade of Zoom links and Meet invitations. Of course, you could download recordings of your Zoom lesson, but the file sizes are large and difficult to upload elsewhere. And many web-conferencing software programs download the web-cam recording, student participant view, and the shared screen as different files, making it hard to see exactly what the teacher saw during the live online lesson. Administrators who are doing "Zoom throughs" might want to help, but face the challenge of how to provide actionable feedback in a timely manner. By using Sibme's Screen Recording feature, the teacher can just record their screen, teach using any and all of the resources they need during their live online lesson, and not worry about what to do after the lesson is over. No downloads required. And coaches/school leaders can watch recordings and use Sibme's commenting and feedback features to start coaching conversations that will help share best practices, identify and solve problems, and get everyone on the same track toward success! 
Sibme is working hard to make sure schools can continue to support teachers and foster a culture of continuous growth during this difficult time. With the addition of the new Screen Recording feature, it's now possible to share any kind of learning artifact for instruction in remote, hybrid, or socially distant classrooms.