Conversation with the Authors: A Quick Guide to Video Coaching
How can video enhance the instructional coaching experience? Join our conversation with Dr. Casey Kosiorek and Jim Thompson, authors of A Quick Guide to Video Coaching to learn how they worked together to improve teaching and learning with the aid of video.
Watch On Demand
The replay of our conversation can be found in the Sibme Learning Center. If you already have a Sibme account, you can access the video by logging into Sibme and then clicking on that link. If you don't have a Sibme account, just create free account in the Sibme Learning Center.
Watch On Demand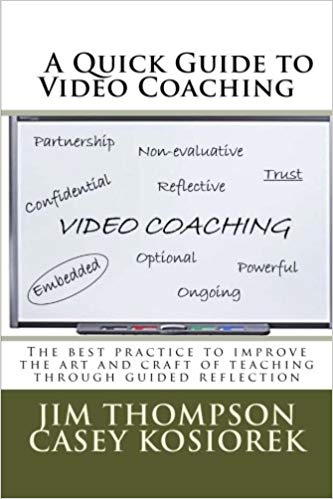 A Quick Guide to Video Coaching is written by Jim Thompson and Casey Kosiorek.
Jim Thompson, NAESP Nationally Distinguished Principal and New York State Elementary Principal of the Year. Jim is a retired elementary principal with 30 plus years of administrative experience. Jim currently serves as the Executive Director of Video Coaching for the Genesee Valley Educational Partnership. He served as an elementary principal, assistant principal, social studies teacher and has taught at the elementary, middle school, high school, and post-secondary levels. He has also served as national consultant for the Hope Foundation, working with districts in Illinois, Michigan, Virginia, Alabama, Kansas, and New York.
Jim has had his work published in the Journal of School Administrators' Association of New York on topics including supervision of instruction and the importance of mentoring for school administrators. He has also been published by the Association of California School Administrators on the topic of instructional leadership.
Casey Kosiorek Ed.D. is Superintendent of Hilton Central School District. Prior to that, he served as Superintendent of the Byron-Bergen Central School District. Dr. Kosiorek earned his Bachelor of Science Degree in Physical Education and Master of Science Degree in Education from Canisius College. He then earned his Certificate of Advanced Study in Educational Leadership from the College at Brockport and his Doctorate in Educational Leadership at the University of Rochester.
Casey received the leadership award for the Rochester Top Workplace. He has also been named Administrator of the Year by the School Administrators Association of New York State, was recognized for his leadership by the Genesee Valley Association for Supervision and Curriculum Development, and received the Tyll Van Geel Educational Leadership Award from the University of Rochester.
Watch On Demand